Sunday, September 19, 2021: Stockton, California
Modesto Nuts 7, Stockton Ports 0
Please bear with me for a minute.
I'm going to talk about promotion and relegation.
North American sports fans who haven't run for the exits may be asking, 'What is promotion and relegation?'
It's the professional sports structure, well known in European soccer but used widely elsewhere and in other European sports, in which the last place or low-finishing teams in a league are relegated to a lower league while the winners are promoted into the higher league.
For popular sports in large countries that pyramid goes a long way – in Germany for example, the soccer league system has 13 tiers.
But what on earth does that have to do with the flippin' Stockton Ports?
The game I watched, the last game of the weird, pandemic-flavored 2021 minor league season, reminded me of many of the flaws, from a spectator's or fan's standpoint, of the North American minor leagues, our own version of the league pyramid in baseball and hockey.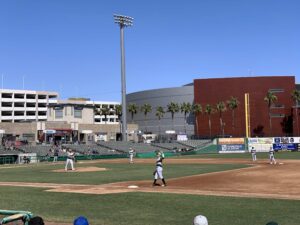 The minors are made of farm teams, directly subservient to their major league parents.
The question is: is it much a sport if a team isn't serious about winning the game it's playing?
What you often get in the minors is not the best effort to win with the players on the roster, but rather to give the big league club a chance to look at talent or give prospects a certain amount of time.
Case in point: Stockton's starting pitcher was dealing through four scoreless innings.
And he got the hook after four innings in favor of a fellow with a six-plus ERA who proceeded to load the bases without getting an out.1In his defense he managed to get out of that jam with one run, but still.
I'd rather see a game where the goal of the team is to win, as opposed to playing exhibition games to 'develop the talent.' 2For all I go on about relegation the Ports would have nowhere to go down to but the Arizona instructional league. Still, imagine if the champs moved up to AA. Anyway, Visalia did even worse in 'Low-A West'.
Which was in short supply at this low end of the A's organization, which sent up a parade of sub-.200 hitters against a Mariners affiliate who sent up many players with averages over .300. The final outcome was no fluke.
Anyway, Stockton's waterside ballpark was a pleasant-enough venue to take in a baseball game, though the modest attendance helped me manage any lingering pandemic crowd anxiety.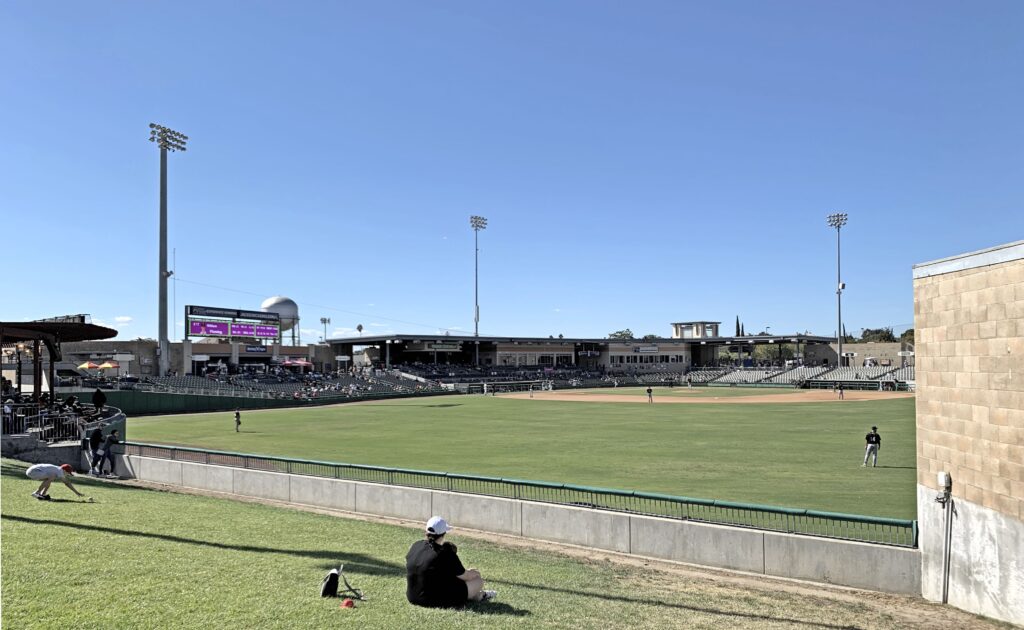 It wasn't even all that hot by Central Valley standards, and a passing cold front had even left the air clean, but the sun and lack of shade tell me Banner Island Ballpark might be a better place to visit at night.
Pay attention: The crowd, such as it is was quite disengaged, perhaps adding to the desultory nature of the experience, not really cheering for good plays by the home squad, including a nice double play. They did applaud when home-team pitcher Edward Baram got the hook during the ninth. It was poignant to think that for some of these players this game will turn out to be the end of their professional careers.
What's in a name?: I'm calling them the Ports, but the team actually for this game and the previous few went by Caballos de Stockton as part of some promotional cosplay beyond my comprehension.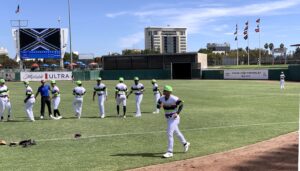 This includes circus-in-town uniforms with teal, purple and fuscia striping because that has something to do with hourses3I don't actually think so.
Pandemic Theatre: The first base coaches wore face masks. No one else did.
Dropsies: The catchers dropped many, many third strikes, but no batters came close to making a play of it at first.