Sunday, February 25, 2018: Stockton, Calif.
Stockton Heat 4, San Diego Gulls 2
I can't believe it's been 11 years since I last ventured to Stockton for a hockey game.
Things have changed a bit.
The old Stockton Thunder of the low-minor-league ECHL are gone, replaced by a Calgary Flames farm team as part of the 2015 realignment of minor league hockey that put five members of the highest-level minor league, the American Hockey League, in California.
The AHL team came with a new identity, the Stockton Heat, with uniform and logo closely aligned with the Flames', um, flame motif.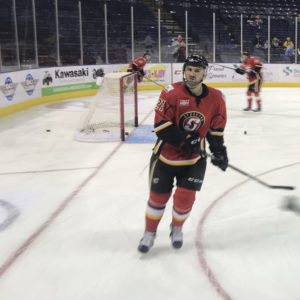 Despite the higher quality of play, I wonder if the bloom has gone off the rose somewhat for hockey in Stockton.
Attendance was announced at 3,370 — hopefully it was just a slow Sunday. Maybe they should have offered more Andrew Mangiapane  bobbleheads. I was there early but not early enough to get one.
Anyway, the game was proficiently played, in the way that has made pro hockey a little boring to watch, in which effective defensive disruption in the neutral zone made it hard for either team to maintain much in the way of interesting puck possession. On the other hand, most of the goals, as I recall, came on fast moving breakout plays.
The pest: Watching the warmups, I pegged the Heat's Ryan Lomberg as a bit of a wise-ass. True to form the player, who was up and down from Calgary all season, was exactly that kind of on-ice pest you want on your team and hate on your opponent's. His heads-up play netted him two assists.
A long road from Moline: Backup goalie C.J. Motte, signed that very day, wore a helmet painted for the Quad City Mallards.
The Heat starter, Ryan Faragher, had only been signed two weeks earlier.
Fashion notes: I saw an Erik Karlsson Senators jersey.
I saw a Teemu Selanne Jets jersey.
I saw many people wearing Heat jersey.
I even saw someone wearing a San Francisco Bulls jersey.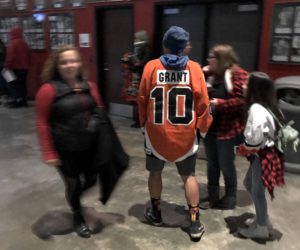 I did not see a single Stockton Thunder sweater.
The media today: The press row was largely deserted except, I think, for a couple people who work for the Heat.
My wife will be happy to read this: There were no fights. Though there was a third-period roughing incident that came close …
Box score: here
Highlights: here