Thursday, April 12, 2018: Nagoya, Japan
Chunichi Dragons 9, Tokyo Yakult Swallows 4
I sampled a baseball game on my first-ever trip to Japan.
It was a cultural experience, aided by my own incompetence.
As easy as it is for a foreigner to use Japanese public transit, it is tricky as hell to navigate something like a baseball game.
Bear in mind that I do not speak or read Japanese, and had spent all of four days in Japan.
I wandered up to the Nagoya Dome on a weeknight, entering the situation cold. My first mission: how to buy a ticket and get in.
Figuring out where to buy a ticket: simple enough.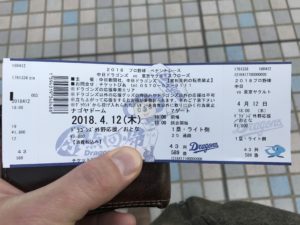 What do I do when I get to the front of the ticket line: not so simple.
My goal: getting a ticket in the 2000-yen range (roughly 20 bucks). Through a series of very bad mime moves, pointing at the ticket price chart, and displaying two 1,000-yen bills, I did end up with a ticket.
Which turned out to be in the supporters' section.
Talk about your full-on cultural experience.
This is one of the key things that makes Japanese baseball a bit different from the North American Way. These supporters' sections, in the outfield, are constantly drumming, and singing, and chanting a series of chant-songs, following the cues of a cheer-master at the front of the section.
So this was interesting. I must have stuck out like sore thumb, but I went along with it, stood when everyone stood, cheered when everyone cheered, even high-fived my neighbor when Zoilo Almonte hit a first-inning home run as the home team put up three runs in the first frame.
This was not at all a sold out game, so after a couple innings trying to fit in, I snuck off and returned to one of the neighboring, non-supporter sections to take up my normal fly-on-the-wall observer role.
Other things that are different in Japan:
Pregame (and in-game) dance team.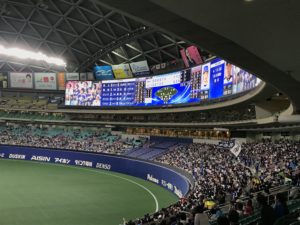 No warning track; just a painted line one would miss is looking up for a fly ball.
And the most civilized of all: the team offers paper cups at the entrance for people to carry their canned beer in. Can you even image that in the U.S.? At 700-750 Yen, the stadium beer is pricy for the local market, though obviously cheaper than in MLB.
Things that are similar:
Japan has video replay review, and it also takes forever in the Far East. All to overturn a bunt out with a 6-1 lead.
Pace of play — the game took more than three-and-a-half hours. So it's understandable that after six, with the home team ahead 9-1, Dragons fans headed en masse for the exits, echoing the Dodgers look of their team's uniforms.
Rueful observation: This would have been a great night for outdoor baseball.