Monday, January 20, 2020: Stockton, California
Stockton Heat 5, Colorado Eagles 0
This was my third time watching hockey in Stockton, and every time the crowd is smaller.
To be fair, a game played on the Monday afternoon of the Martin Luther King, Jr. holiday may not be a representative sample for a team that usually plays night games, but attendance concerns have been documented elsewhere , along with rumors of a possible move.
Subsequent to my visit, the team signed a one-year lease extension  with the city, which should be short enough to keep the rumors flying.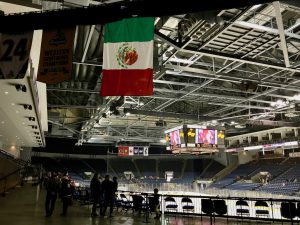 I hope they stay — it's nice to have another quality, affordable hockey outlet that's in driving range. And the arena is a good venue with good sightlines.
In any case, the Heat got the drop on their opposition, scoring 26 seconds in, and cruised to an easy win. Appears to be representative of what was shaping up to be a solid season, with the team in playoff position when the 2019-20 season was abruptly ended.
Thunder rumbles: On my previous visit in 2018, I was surprised not to see anybody wearing Stockton Thunder sweaters. (The Heat replaced the Thunder in 2017 as part of minor league realignment that brought the higher-level AHL to California.)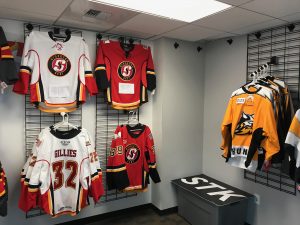 This year, the Heat were leaning in to the 15th anniversary of pro hockey in Stockton, with a special third jersey and Thunder merchandise for sale.
Ms. Hockey Wanderer is sad to learn: Two grown man had a fight. On the ice.
Attendance: 1,445
Recap here.
Box score here.