Sunday July 12, Vancouver, B.C. 
Salem-Keizer Volcanoes 10, Vancouver Canadians 5
I'll cut to the chase; Nat Bailey Stadium was a pretty cool place to watch a baseball game. We were in Vancouver on vacation, and I was pleased to find that the Canadians had a homestand during our stay.
Pandering to one of my biases, it's an old stadium (though they've updated a little bit recently).
I was struck the most by its resemblance to another venerable minor league venue closer to my home: Municipal Stadium in San Jose.
It's of a similar vintage, built to a similar design, is similarly unfussy, has a similar location in a park outside the city center, and proudly displays its history along the interior corridors.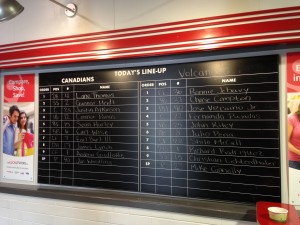 To make this Californian even more at home, British Columbia was experiencing a severe drought.
The stadium has come down a peg from earlier decades when the home team played triple-A ball; the Pacific Coast League packed up in 1999 and moved to Sacramento.
Happily a Northweast League team arrived the next year, and I think the less high-falutin' nature of the short-season single-A suits the homespun nature of the stadium anyway.
Short-season A is where new draft picks often get their first taste of the pros and, from the evidence on hand the Blue Jays (Vancouver's parent team) didn't maybe draft all that well. The Canadians started well but their bullpen was catastrophic and more than gave away the lead the team had put together through the first six innings. The lowlight was back-to-back Salem-Keizer home runs in the seventh.
One Vancouver player stood out, first for his awesome name — Earl Burl III — and then by playing aggressive and effective baseball, stroking a first-pitch RBI in his first at-bat.
He used his speed to force an error to reach base in the seventh, then hustled to break up a likely double play.
Salem=Keizer may have played better, but the Canadians looked better — the Salem-Keizer uniforms looked like T-shirts.
Nice minor league touch: $1 root beer Sunday.
And the grounds crew danced for the seventh inning stretch.